BBC
Monday, 17 January, 2005
Africa to miss key poverty goals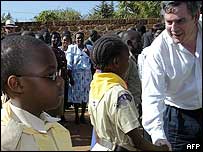 Brown hopes debt relief will raise future living standards
Africa will miss key targets for reducing poverty by more than 100 years, the UK chancellor of the exchequer has said.

Gordon Brown told African finance ministers that, at the present rate, free primary education for all would not be provided until the year 2130.

Mr Brown was speaking in South Africa - the last leg of his African tour.

He has promised that the UK will help pay the debts of the world's poorest countries to reduce poverty.

Free primary education is one of the United Nations Millennium Development goals, which are supposed to be met by 2015.

The BBC's Africa correspondent Barnaby Phillips says that many African governments are encouraged by the UK's apparent determination to help.

I wish more people would have a Marshall plan for Africa
Nelson Mandela

But he says there is also scepticism about the need for yet another organisation trying to fight poverty and, crucially, African governments know that the UK may struggle to convince other wealthy countries to open up markets and cancel debt payments.

However, Mr Brown firmly believes that while the UK chairs the G8 group of the world's richest nations, other countries can be persuaded to follow the its lead.

He has said that former South African President Nelson Mandela will attend a G8 summit in London next month to personally urge the world's richest nations to do more to help Africa.

'Good scheme'

Mr Brown is also expected to announce plans to boost trade with poor countries at the meeting, organised by the Commission for Africa - the commission set up by the UK to tackle the economic problems facing the continent.

On his tour, he has signed deals with Mozambique and Tanzania to take on 10% of their debt to international lenders, and promised to do so with 70 more among the world's poorest nations.

Speaking to the BBC, Mr Mandela applauded the UK chancellor's pledges and ideas for Africa which have been dubbed a "new Marshall plan".

"My first impression is that it is a good scheme and I wish more people would have a Marshall plan for Africa," he said.

Mr Brown told BBC News 24 that Mr Mandela is a hugely influential figure.

He said: "I believe there is growing support in the international community for the plans being put forward.

Mr Mandela "carries a huge authority around the world and I know when he talks to leaders in America, Europe or elsewhere he persuades them it's necessary to take action," Mr Brown went on.

"I think he wants to bring to their attention that the Marshall Plan is one way forward to be able to deal with the problems that he for his whole life has felt passionately about, that we take action to reduce infant and maternal mortality, tackle HIV/Aids and reduce poverty in many parts of Africa."

____________________________________________________________
--