For detailed info on FESPACO 2005 visit:
Two killed as film festival opens
By James Copnall
BBC News, Ouagadougou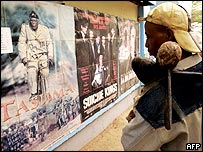 The festival showcases the best in new African cinema
The opening of the pan-African film festival Fespaco has been marred by the deaths of two people in a crush.

Witnesses said as stadium gates were opened in Ouagadougou, the capital of Burkino Faso, there was almost a stampede towards the more shaded areas.

The festival director requested silence in memory of those who had died. At least ten other people were injured.

Film makers, critics and fans from across Africa are expected at the week-long festival.

Twenty films are competing for the top award, the Stallion of Yennenga, covering some of the biggest challenges facing Africa - including Aids, poverty and genocide.

The jury includes the Hollywood actor Danny Glover.

Television element

The festival organisers and the speaker of Burkina Faso's national assembly offered their condolences to the families of the victims.

The deaths cast a long shadow over an event that is usually seen as a rare example of positive news coming out of Africa.

Saturday's opening ceremony featured a performance by the Malian singing legend Salif Keita.

Over the next week, Burkinabe and visitors from all over the world will be able to watch the best in new African feature films and documentaries.

Films from Europe and the Americas will also be shown and there is a special section for African TV series.

Fespaco is vitally important for African cinema, which receives little exposure in the rest of the world.
--