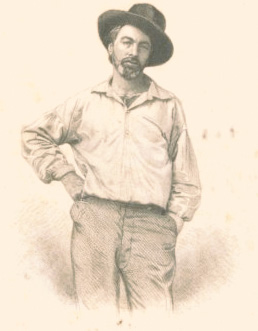 Walt Whitman conceptualized his poetic project in terms of language experimentation. His varied use of syntax, rhythm, and aural effects such as anaphora, assonance, consonance, slant rhyme, and elision is nowhere more evident than in "Song of Myself," the poem that opens the 1855 edition of Leaves of Grass and in which hearing and listening are central themes:
"I think I will do nothing for a long time but listen,
And accrue what I hear into myself....and let sounds contribute toward me. […]

I hear the sound of the human voice....a sound I love
I hear all sounds as they are tuned to their uses....sounds of the city and sounds
out of the city....sounds of the day and night;"
Lines such as these suggest how much is lost when we read only with our eyes.
Unfortunately, "Song of Myself" is a poem that is much read but seldom heard. This is a particular problem since Whitman's long idiosyncratic line can look like prose to many readers. By integrating a diplomatic transcript of the 1855 version of "Song of Myself" with six streaming audio tracks, this audiotext emphasizes the oral register of the poem, thus enabling users to better apprehend the relations between sound and sense.
In doing so the audiotext also highlights an understudied aspect of the poem. Despite its title, "Song of Myself" is a polyvocal poem, one in which several poetic personae and voices compete. Such polyvocality is represented here by six different readers, each of whom reads the entire poem. Users are encouraged to "mix" these voices as they deem fit, experimenting with vocal tracks line by line, section by section, or page by page. In presenting the poem in this way, we refrain from asserting that there is a correct way to vocalize a given line. Whitman famously "hear[d] America singing"; this audiotext will help users to hear the diversity of that singing and its singers.
The audiotext is presented through an interface that resembles a copy of the original edition of Leaves of Grass lying open on a desk. (Our model for this design is the Paradise Lost audiotexts project, which is also hosted by Liberal Arts Instructional Technology Services at the University of Texas at Austin.) Composed in Adobe Flex, the Flash-based interface is backed by an XML-encoded text that conforms to the P5 guidelines of the Text Encoding Initiative. Although we ultimately intend to include the entire text of the 1855 Leaves of Grass, we will offer audio tracks for "Song of Myself" only. We also plan to include annotations that situate the poem in relation to historical and cultural contexts and discourses (e.g., democratic culture, temperance, slavery, abolitionism, U.S. imperialism, Native American removal, "deviant" sexuality, phrenology).
The implications of this project extend beyond the study of Walt Whitman and even beyond the purposes of literary instruction. By developing and promoting the audiotext format, we aim to bring into closer conversation the history of the book and the future of information technology.