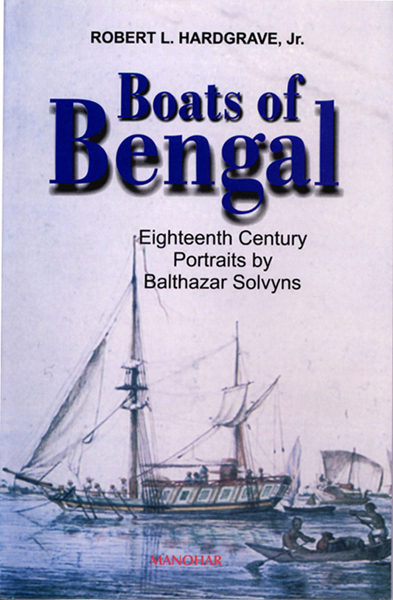 Boats of Bengal is part of a larger project on the life and work of the Flemish artist Francois Balthazar Solvyns (1760-1824), whose portrayal of the people and culture of Bengal is among the richest visual records we have of Indian in the late eighteenth century. The volume reproduces 36 Solvyns etchings, together with his descriptive text and Robert Hardgrave's commentary on each plate.
Published in 2001. ISBN 81-7304-358-2
Manohar Publishers
4753/23 Ansari Road, Daryaganj
New Delhi 110002
The volume is available in the United States through South Asia Books, P. O. Box 502, Columbia, MO 65205. Fax: (573) 474-8124. Email:
sabooks@juno.com
Robert L. Hardgrave, Jr, is the Temple Professor of the Humanities in Government and Asian Studies at the University of Texas at Austin.
---
Go to: The Solvyns Project homepage