Jesús Malverde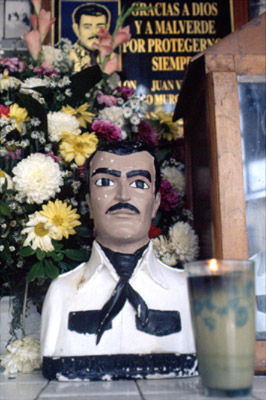 El Narco-Santon
The (Big) Narco-Saint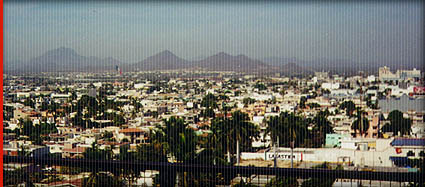 In Mexico's northwest, between the Sierra Madre mountains and the Pacific Ocean, the state of Sinaloa has been called the "cradle of the biggest [drug] traffickers Mexico as ever known." Its state capital, Culiacán, is the drug capital of the entire country. An average of two to three drug-related deaths are reported daily, and the drug violence between police and rival drug gangs is commonplace in the city. The children idolize either Culiacán native Julio César Chávez or the macho traffickers. However, just around the corner of the statehouse, on the wrong side of the railway tracks, a shrine exists as an amalgamation of the region's narcocultura and its Catholicism. There, homage is paid to Jesús Malverde, also called the narco-saint. A constant stream of people can usually be found there, placing candles near busts, leaving framed photographs of loved ones they wish healing or protection upon. One can pay for music to be played in thanks for bountiful harvests of marijuana and poppy, in hopes for a safe drug run up north, or for a timely cure for someone's illness.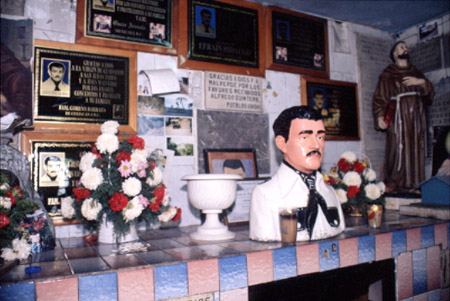 According to one legend, Jesús Malverde was a Robin Hood figure of the early 1900's who was hanged by the governor. He himself did not traffic drugs, but after his death his reputation for working miracles drew faith strongest among Sinaloa's poor and highland residents, the classes from which narco-traffickers emerged. Malverde has become the patron saint for many drug smugglers, though the local diocese says the Malverde chapel is an embarrassment. The priests lament the glorification of a man who robbed and killed, though citizens of Sinaloa have found it harder to have faith in a political system that enforces a drug war responsible for the many deaths of their own people. Historians cannot seem to find documentation of his existence, but even still miracles such as the healing of the blind and crippled, the returning of lost cattle, and the saving of a drowning man have been attributed to him. One theory is that the governor who wanted him arrested actually invented the Malverde legend to keep in check the abuses by his more brutal hacienda owners. If that is true, it is highly doubtful the governor could have envisioned the cultural iconography he inspired.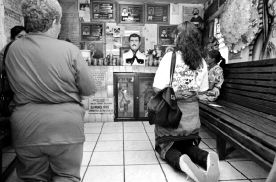 Today at Malverde shrine, visitors rub concrete busts with his fabled image; dark eyes, black hair, thick mustache, square jaw, and ever-expressionless face. People from Southwest America and all over Mexico come to visit the shrine and pray. Sometimes they are housewives having taken an 11-hour bus ride solely for the purpose of grateful prayer and sometimes they are drug runners on a detour, asking not to be shot again. The poor and those made wealthy in the drug smuggling industry come together at this place to be blessed by Jesús Malverde. Corridos dedicated to his memory can be bought on cassette tape, and velvet paintings and busts are sold to bring his likeness home, along with trinkets, medallions, and cards. The many ballads written in his honor portray him to be a contemporary Heraclio Bernal, a nineteenth century bandit often sung about in corridos, also from Sinaloa.
When the statehouse was being built during the 1970s over the original site of the shrine, opposition was so fierce that Sinaloan officials had to provide land for a larger, roofed chapel. Ethnographer Sam Quiñones writes:
They say all of Culiacán turned out to see the demolition of the pile of pebbles that supposedly marked the place where Malverde was buried. They say, too, that the pebbles began to jump like popcorn and that the bulldozer operator had to get drunk to have the guts to roll over it and that finally the machine broke down when it touched the grave.

[Los Corridos de Jesús Malverde]