MUSICAL INSTRUMENTS OF NORTH INDIA
Eighteenth Century Portraits
by
Baltazard Solvyns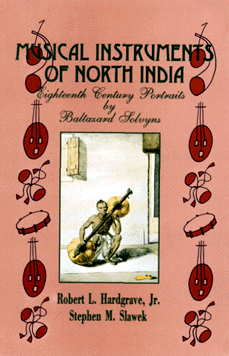 Robert L. Hardgrave, Jr.
Stephen M. Slawek
About the book:
The Flemish artist Baltazard Solvyns, residing in Calcutta from 1791 until 1804, produced a remarkable series of etchings depicting the people and culture he observed. First published in Calcutta in 1796 and 1799, and then in a four volume edition, Les Hindous, published in Paris, 1808-12, the etchings include portrayals of 36 musical instruments as well as prints of the nautch and a "Hindu dancing girl". These etchings represent, in most instances, the first illustrations of the instruments and the manner in which they are played. Hardgrave and Slawek here reproduce these prints, together with Solvyns's descriptive text, and their own commentary for each plate.
Published in New Delhi by Manohar (1997), it is available through South Asia Books, P. O. Box 502, Columbia, MO 65205. Fax: (573) 474-8124. Email: sabooks@juno.com
About the authors:
ROBERT L. HARDGRAVE, Jr., is the Temple Professor of the Humanities in Government and Asian Studies at the University of Texas at Austin. His forthcoming A Portrait of the Hindus: Baltazard Solvyns in Calcutta, 1791-1804, will reproduce the complete collection of the Solvyns etchings, with annotations and introductory chapters on the artist's life and work and on the Calcutta of his times.
STEPHEN M. SLAWEK, Associate Professor of Music and Asian Studies at the University of Texas at Austin, is an ethnomusicologist specializing on the music cultures of South Asia. His main research interests include the instrumental music of North India, the modernization of Hindustani music, and Hindu devotional song. He is also one of the leading sitar disciples of Pandit Ravi Shankar.
---