Verbs like

prendre

are conjugated like regular -re verbs in the singular, but not in the plural. Note the difference in the stem in the plural forms.


prendre

'to take'

je

prends

nous

pre

n

ons

tu

prends

vous

pre

n

ez

il/elle/on

prend

ils/elles

pre

nn

ent

past participle:

pris


Verbs conjugated like

prendre

include:


apprendre

, to learn

comprendre

, to understand

surprendre

, to surprise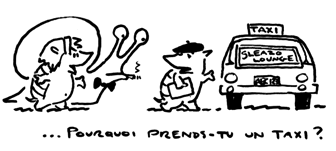 Edouard et Tammy

surprennent

Tex.
Edouard and Tammy surprise Tex.
Tammy: Qu'est-ce que tu fais, Tex? Tu vas où? Pourquoi tu

prends

un taxi?
Tammy: What are you doing, Tex? Where are you going? Why are you taking a taxi?
Tex: Uhh, je suis en retard. Uhh, je vais en classe. Aujourd'hui mes étudiants

apprennent

à chanter la Marseillaise!
Tex: Uhh, I'm late. Uhh, I'm going to class. Today my students are learning to sing the Marseillaise!