El Corrido de "Los Tequileros"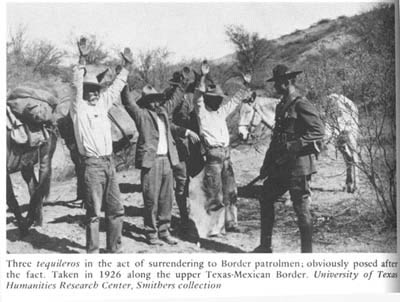 History of "Los Tequileros"
The Prohibition Act of 1919 created a forum for the "tequilero" corrido, because the act outlawed the production and consumption of alcohol products in the United States. Smugglers of alcohol into the United States from Mexico were coined the term "tequilero", literally meaning "tequila runner", because tequila was the main type of alcohol produced in Mexico and smuggled into the United States. "Tequileros" tended to operate in groups of about three to four men and would cross bridges at the borders with tequila often times hidden in the spare tires of the car. The majority of "tequilero" corridos take place in the lower border area, such as the Brownsville-Matamoros area.

In the specific corrido "Los Tequileros", three men named Leandro, Silvano and Geronimo begin their smuggling operation in Ciudad Guerrero, Tamulipas, which is across the border from Zapata, Texas. The target city of the men is the town of San Diego, Texas, approximately one hundred miles northeast of Zapata, and is the same city as the famed city involved in the "Plan of San Diego". The men are eventually ambushed by "rinches" upon their arrival into Texas, so the emphasis of the corrido is not the act of smuggling the men in which the men partake, but the conflict that ensues between the "tequileros" and the "rinches". The majority of smuggling corridos tend to glorify the acts of the smuggler by emphasizing their violent death at the hands of United States legal authority.
El Corrido de Los Tequileros by Cantu y Maya
Text of El Corrido de Los Tequileros