CORRIDO Related Links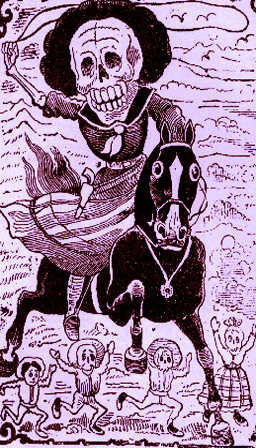 5-6 de junio 1998
Links

Go to Américo Paredes Memorial

Alberto Mesta Jr.'s Corridos Mexicanos

Para información sobre corridos, y muchísimo más, consulte la página de:
Discos ARHOOLIE



Sí, se puede-- César E. Chavez and His Legacy



José Guadalupe Posada and the Corridos of the Mexican Revolution by Melody Mock



Link to "Corrido de Carlos Salinas".



Música de la frontera/Borderlands Music--Some great links with audio.



Tejano Home Page--Hot links with some audio.



"El Corrido de Jesús García, el héroe de Nacozari (Máquina 501)"--With links to la Universidad de Sonora.



Héctor Galán's Chicano!: History of the Mexican American Civil Rights Movement--Well-organized site with great links.



Víctor Mendoza-Grado's Corridos!!! Pages.-- Great links to some classic corrido texts. New, improved, updated!!!!



Puro Mariachi-- Everything you could ever want to know about the world of Mariachi music, and much, much more--Latin culture, music, etc. Mountains of links!!!!.



Border Culture: Conjunto Music-- Links to good information and great visuals.



Tercer Congreso Internacional del Corrido/Third International Conference on the Corrido-- Call for papers, deadlines and continuing source of information. This is the big one, so check in frequently.



Lirio Azul Home Page-- Links to good information on the development of commercial música ranchera in the 1930s.



MUSIC AND CULTURE ON THE RIO GRANDE DEL NORTE: THE JUAN B. RAEL COLLECTION OF HISPANO FOLK MUSIC-- A new Library of Congress / Center of American Folklife web site by Enrique Lamadrid with the historic Rael archive from the summer of 1940. Includes interpretive essays, biography, bibliography, discography, transcriptions, translations, plus 8 hours of downloadable sound files. Sponsored by the UNM Zimmerman Library Center for Southwest Research and the Southwest Hispanic Research Institute.

.
---

Corridos de Texas

Corridos de la Revolución

SPN 350 / LAS 370S / MAS 374 Home Page

Return to Jaime's Home Page


[Spanish and Portuguese | UT Austin Web Central ]


Comments to: ixtabay@uts.cc.utexas.edu