¡Bienvenido(s)! de parte de:
JAIME NICOLOPULOS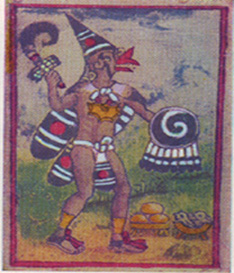 Quetzalcóatl -- Códice Durán
---
Welcome to Jaime's Home Page! Check out the Corrido Pages!
---
¡¡¡ SPRING 2007 COURSES!!!
¡¡¡ SPRING 2006 COURSES!!!
¡¡¡ FALL 2005 COURSES!!!
¡¡¡SPRING 2004 COURSES!!!


¡¡¡ALL NEW DECEMBER 2002!!!




¡¡¡NEW FOR MAY 2000!!!


FROM MAY 1997
This collaborative web site presents and interprets a wide variety of texts--books, manuscripts, illustrations, maps, and artifacts--generated by Europe's colonization of the Americas. Comparative and broad in scope, the exhibition investigates Spanish, French, English, and Dutch "readings" of the New World and the "readings" of Europeans made by many Native cultures.



¡¡¡CORRIDOS!!!






---
This page has been accessed times since 11/20/96.