| | |
| --- | --- |
| Gregorio Cortez <W65> | 'A Texas Mystery' |
Gregorio Cortez was born on a ranch on June 22, 1875 between Reynosa and Matamoros on the Mexican side of the border. The family moved to Manor, Texas in 1887 and two years later Gregorio and his older brother Romaldo began to work as farm hands and vaqueros for farmers and ranchers in Karnes and Gonzales counties.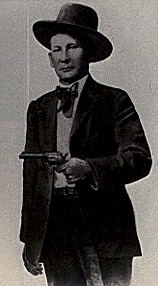 Gregorio married Leonor Diaz and has his first child, Mariana, at the early age of sixteen. After wandering for years, Gregorio and his brother finally decided to settle in Karnes county in 1900, when Gregorio was twenty five.
On June 12, 1901, Sheriff (Brack) Morris went out to the Cortez residence looking for a horse thief that was described as "... a medium- sized Mexican with a big red broad-brimmed hat." Boone Choate was one of Morris's deputies who was supposed to be an expert on the Mexican language. Through Choate, Sheriff Morris questioned a number of Mexicans and was finally lead to Andres Villarreal who had recently traded a horse for a mare from Gregorio. Accompanied by Choate and John Trimmel, Morris drove out to the Cortez's residence to discuss the mare with Romaldo and Gregorio. After speaking with Romaldo, Gregorio was asked if he had traded a horse with a man by the name of Andres Villarreal and Gregorio replied no. He only replied no because he traded a mare and not a horse. When Gregorio said no Sheriff told Choate to tell Romaldo and Gregorio that he was going to arrest them. Morris misunderstood Gregorio's reply and shot Romaldo. He then shot at Gregorio, but missed and in turn, Gregorio shot and mortally wounded Morris. Choate and Trimmel wasted no time and ran back to the city of Kenedy. Gregorio knew the deputies would be back for him soon so him and Remaldo waited in the bush until dark and they finally made their way into Kenedy, where Gregorio left Remaldo with the Cortez family on the outskirts of town.
Cortez began his flight by walking north an estimated eighty miles in about forty straight hours. He hid out with another friend by the name of Martin Robledo. Gregorio would have safe except Robert M. Glover, a Gonzales county Sheriff and a good friend of Morris, had pressured a woman to reveal Gregorio's destination which led him to the Robledo house. Shortly after, a gunfight arose and Henry Schnabel, a member of the posse, was killed by a drunken deputy and Gregorio escaped. Cortez headed south toward the Rio Grande and his first stop was at the home of Cerefino Flores who gave Cortez a pistol and a mare. The chase was then led across the Guadalupe River to the San Antonio River, which was a distance of about fifty miles away. After two days and one night Gregorio's mare fell over and died. When it became dark, Gregorio found another and continued to ride. It is estimated that Gregorio covered some three hundred miles over three days. Finally the little mare gave out and Gregorio walked into the town of Cotulla in broad daylight and from there he followed the railroad tracks to the outskirts of a town named Twohig. Around noon on June 22, 1902 Cortez walked into the sheep camp of Abran de la Garza. He was spotted by a man named Jesus Gonzalez who led captain Rogers of the Texas Rangers and a fellow posse man to the sheep camp. Gregorio Cortez was caught completely off guard and arrested.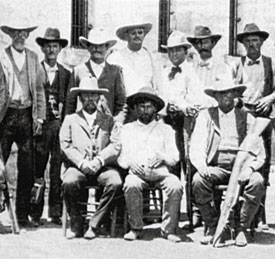 Gregorio was jailed in San Antonio and funds were collected through certain organizations and campaigns throughout south Texas. His first trial began on July 24, 1901 for the murder of Henry Schnabel. One man found Gregorio innocent which delayed the much expected guilty verdict. Gregorio was in fact innocent because Schnabel was accidentally killed by another member of the posse. A family illness forced the juror to a compromise and he was sentenced to fifty years on a charge of second-degree murder. Both the juror and Gregorio were not satisfied so the juror told the story to the defense lawyer who promptly filed a motion for a new trial and the judge denied the motion.
A new trial was held in Pleasanton and Gregorio was sentenced to two years for horse theft. This conviction was later reversed. Gregorio was also tried in Goliad for the murder of Sheriff Morris but the trial resulted in a hung jury. A second attempt to try the case took place in Wharton County, but the judge dismissed the case for want of jurisdiction. The case was finally tried in Corpus Christi on April 25-30. The jury of Anglo farmers found Gregorio not guilty of the murder in the death of Sheriff Morris. The jury agreed that Gregorio had shot the sheriff in self-defense and in his brother's defense because Morris had attempted and unauthorized arrest. This verdict proved to be a victory not only for Gregorio Cortez, but for all of the Mexicans in Texas. Unfortunately, Cortez was found guilty for the murder of Sheriff Robert M. Glover of Gonzalez County. Gregorio was sentenced to life in prison. Gregorio entered the Huntsville Penitentiary on January 1, 1905. He was pardoned eight years later by Governor O.B. Colquitt. When the Mexican Revolution gripped the north, Gregorio joined the Huerta forces but was wounded so he had to return to Manor, Texas. After he recovered, he moved to Anson, Texas in 1916 where he died at the home of a friend at the age of forty-one. Gregorio Cortez is buried in a small cemetery eight miles outside of Anson.