Events/イベント
Contemporary Japanese Film Series Fall 2014
...Details...
JPN Conversation Table
: 日本語会話テーブル: MWF4-5 (Eng conv 3-4) Union Dining Hall (Across from Copy Center)
last modified: 8/24/14
桂三輝にがおえコンテスト
Katsura Sunshine Caricature Contest
click ↓ to enlarge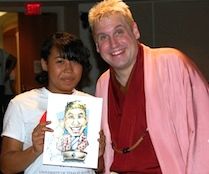 Winner, E. Smith with Katsura Sunshine
おめでとう!
click here for all entries

Click here to learn how-to effectively use Japanese on your computer! For both PC and Mac users.