Student News & Awards
Tyler Gilbert: TOMODACHI Bridging Scholar, F '14
JPN Nat'l Honor Society: F '14 K. Johnson & T. Jenkins
Asian Studies Graduation 12/'14
"JET" Participants from UTAustin
Events/イベント
Austin Regional Speech Contest
2/22 (Sun), 1:00, @ WCH 4.118
...Details...
JPN Conversation Table
: MWF4-5 (Eng conv 3-4) Union Dining Hall (Across from Copy Center)
last modified: 2/5/15
桂三輝にがおえコンテスト
Katsura Sunshine Caricature Contest
click ↓ to enlarge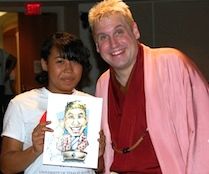 Winner, E. Smith with Katsura Sunshine
おめでとう!
click here for all entries

Click here to learn how-to effectively use Japanese on your computer! For both PC and Mac users.